-Ritika and Abhimanyu
Gujarat being the home state for the Prime Minister as well as Home Minister has to be the hotspot of politics. With BJP's traditional strong base, Congress' lowkey campaign and AAP's entry as an intriguing contender, the Gujarat elections are reverberating far beyond its borders. With 182 seats, the assembly elections in Gujarat are expected to be conducted in December 2022. Thus in order to gauge what this noise is all about, the School of Politics conducted an opinion poll across the state with a sample size over a Lakh. The results of the poll suggests that AAP's entry into Gujarat politics has given a major boost for the BJP's attempt for the biggest win ever.
It is almost after 3 decades that Gujarat is seeing a triangular contest of this sort. The last time it was during the 1990 Assembly elections when the Janata Dal, BJP, and Congress contested against each other. Congress won 33 seats, the lowest among the three. Similar to how the triangle struggle is bound to sink one this time, and it is Congress once again. According to the survey results, AAP is predicted to win around 3 seats while BJP may get the highest number of projected seats; 147 out of 182, reducing Congress to 18. With AAP's all out entry, Congress low intensity campaign in the absence of Ahmad Patel and Rahul Gandhi and BJP maintaining their stronghold base, the next six weeks is expected to be an interesting watch. Let us decode the survey region wise to get more in depth reasoning.
BJP all set to significantly gain in Central Gujarat
Out of 61 seats in central Gujarat, BJP used to win 35 to 40 seats in the last two elections and is predicted to sweep away with 51 seats reducing Congress to merely 5 this time. Majorly, BJP is consolidating in their strong zones of urban centric Ahmedabad and Vadodara, gaining in rural and tribal belt majorly due to split in votes between AAP and Congress.
The School of Politics survey predicts significant gains for BJP in the rural districts of Anand and Kheda, the cradle places of cooperatives and historically strongholds of the Congress. According to the survey, BJP may increase its tally from 4 to 10 in the above two districts, primarily because of the split of votes by AAP. Meanwhile the urban belt of Ahmedabad and Vadodara, BJP look set to further consolidate their position to increase their tally from 22 to 25.
BJP is also predicted to perform well in the tribal seats of Central Gujarat, winning 6 out of 10. However in most of the seats there is a tight race. 7 of these 10 reserved tribal seats may be decided with a very small margin. AAP is clearly emerging as a player to reckon with in these seats specially after Arvind Kejriwal promised to implement the Constitution's Fifth Schedule and the Panchayat (Extension to Scheduled Areas) Act in tribal areas of Gujarat. AAP is expected to win 1 and finish close second in 2 constituencies in these 10 seats.
With substantial inroads in Aravali and Banaskantha; BJP sweeping Northern part
Traditionally the Congress stronghold, in spite of winning the entire Gujarat BJP always struggled and finished second to Congress in this part. Districts of Aravalli, Banaskantha, Gandhinagar, Mehsana, Patan and Sabarkantha constitute Northern Gujarat. Since last two elections Congress has won 17 out of 32 in this belt, but again due to inroads of AAP Congress seems to be down to just 3 this time. Interestingly, Congress is to retain only 1 seat out of 17 that they won that too by small margin, all losses may be credited to AAP.
BJP is all set to turn the table specially in Aravalli and Banaskantha districts. In these bordering Rajasthan districts BJP is taking its tally from 4 to 10 reducing Congress from 8 to 2. One of the sure Congress seats being Vadgam from where Jignesh Mewani contests. BJP is also bettering its tally in their stronghold of Gandhinagar and Mehsana by increasing their tally from 7 to 11. Mehsana is also prestigious as it is the home district for the Prime Minister Narendra Modi.
BJP consolidating its forte and winning the tribal belt in Southern Gujarat
The traditional BJP bastion where it has won 25 and 28 seats in the last two elections respectively, BJP seems to be further consolidating it. Even amidst patidar agitation BJP managed to do well in this region and won 25 of 35 seats in 2017. The survey suggests that BJP will be able to win 30 out of 35 seats leaving just 2 seats for Congress.
Meanwhile, out of 14 tribal seats in South Gujarat, the survey suggests that BJP is doubling their tally from 5 in 2017 to 10 seats this time that too comfortably with a decent margin. Also to note that Congress won 6 of these seats last time, may draw a blank this time around. As there were close fights in most of the tribal reserved seats in Central Gujarat, it is not the same case in the South. Most of the tribal reserved seats have a clear winner. Only 2 out of 12, Nandod and Vyara are expected to be a tight race. Also, AAP has not been able to make any substantial inroads in tribal belts of South Gujarat as it may not finish in top two in any of these constituencies. In the business hub of Surat district BJP is predictably all set to repeat their tally of 15 out of 16 seats. This is the third time in a row post delimitation that BJP may win the exact number in Surat.
With Patidar agitation over, BJP to regain its dominance in Saurashtra
Saurashtra-Kutch with 54 seats has traditionally been a BJP bastion where it manages scores above 35. Patidars, Ahir, Koli, and Kshatriyas make up a sizable section of the population in Saurashtra. During the 2017 assembly elections, due to Patidar agitation the Congress had won 29 seats and outperformed BJP after a long time. The survey projects that the winds of Patidar agitation have subsided and BJP is back to consolidate its stronghold and may be slightly bettering previous records. BJP is set to regain its past glory in the region winning 39 out of 54, leaving 8 for Congress and 2 for AAP. This is the one belt, where AAP's effect seems to be turning into a few seats.
The five districts where BJP suffered the most last time were Amreli, Surendranagar, Junagadh, Gir Somnath and Morbi. In these districts BJP were reduced to only 2 out of 25 seats. Survey suggests that BJP is making a strong comeback in these districts winning 16 this time. Also BJP is set to do well in Rajkot and Bhavnagar districts. If we examine in detail the variables favoring the BJP in this area, we see that 9 MLAs from the Congress who won the last election have defected to BJP. Survey also suggest a good performance of AAP in Saurashtra-Kutch region, winning 2 seats and finishing second on 7 seats.
BJP to dominate reserved seats, mainly due to their insurge in tribal seats
Gujarat has over one-fifth of seats reserved for Scheduled Castes and Scheduled Tribes. With 13 seats reserved for SC and 27 for ST, they hold plenteous influence in Gujarat politics. Out of total 40 reserved seats, BJP won 16 in 2017 however according to survey the number is predicted to go up to 29 this time.
Major contributor to this upsurge could be the 27 tribal reserved seats that fall mainly in Central and South Gujarat.The tribal population is spread across from Banaskantha in the north to eastern districts like Dahod and Panchmahal, to southern districts starting from Chhota Udepur to Narmada, Valsad, Tapi and Dangs.In 2017, Congress and BTP alliance won 18 seats out of these and BJP only 9. However the poll suggests that BJP may go up by 19 seats owing to the major factor of defection. Three important Adivasi Congress MLA's Ashvin Kotwal from Khedbrahma, Jitu Chaudhary from Kaprada and Mangal Gavit, a two-term Congress MLA from Dang. Important to note that 10 seats out of these 27 are expected to be a close fight, majority of them in Central Gujarat.
BJP has performed well in SC reserved constituencies in last elections, winning 7 and 10 seats in 2017 and 2012 elections respectively. According to the survey, BJP seems to be repeating its performance in SC seats winning 10 out of 13 this time.
AAP entry could be the final nail in the coffin for Congress in Gujarat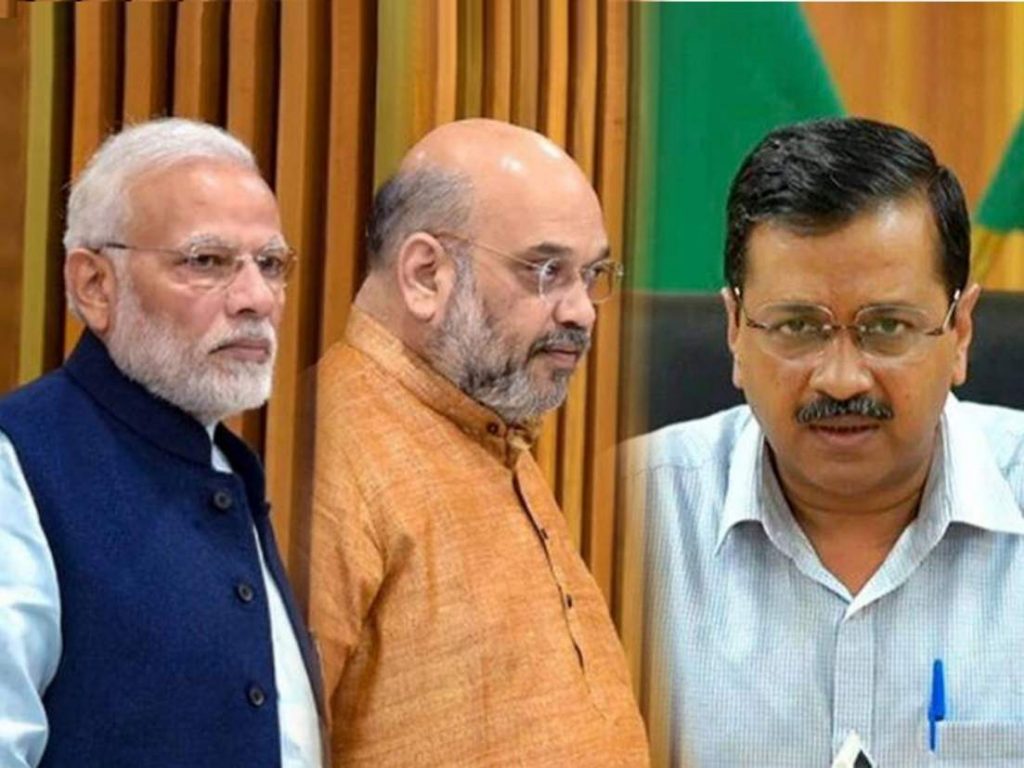 BJP has been reigning Gujarat since 1995. The 2017 elections were BJP's sixth consecutive win but with a wafer-thin majority. While the BJP had won most of the urban seats last time, the Congress had performed well in rural areas. The BJP's electoral setbacks were largely attributable to a number of factors that are no longer in play. BJP has set their house inplace this time. They have settled former Chief Ministers outside Gujarat; Anandiben Patel as the Governor of Uttar Pradesh and Vijay Rupani as party incharge for Punjab and Chandigarh to curb the factions. Also, with complete reshuffle of the ministry, they have tended to shed out baggages if any. With their posterboy Prime Minister Narednra Modi's increased visits to Gujarat are having a comprehensible impact and are being widely covered by the media, his messages are also well received by the crowds. Prime Minister as a son of Gujarat and his visits are seen as an endorsement of the BJP's campaign.
Contrasting to BJP, Congress party, is still invisible on the ground with less than two months left is puzzling many and rightfully. On one hand where Congress' Bharat Jodo Yatra is creating a noise in the country, Rahul Gandhi's absence is palpably felt in the state. Ahmed Patel, who was the Congress election strategist in past elections, is not around this time. Also, the recent fallout of their election incharge Ashok Gehlot with the Gandhi family has worsened the situation.
AAP's aspirational entry could change the arithmetics of the state considerably. As per the survey Aam Aadmi Party overall seems to be influencing at least 56 seats and interestingly congress had won 37 of these last time. The AAP is doing particularly well in Saurashtra and Central Gujarat. AAP is likely to eat into the Congress votes and facilitate the BJP candidate's win. Out of the 56 seats where AAP is putting up a real show, the survey estimates BJP winning 42 of these. Arvind Kejriwal has taken to the streets in Gujarat reaching out to the people whom he mentions were traditionally ignored by the subsequent governments. From speaking to aggrieved policemen to eating with transport drivers, AAP claims to bring in the Delhi model. Even when AAP is likely to face challenges due to weak presence on ground, AAP's entry into Gujarat may be the final nail in the coffin for the Congress Party.
With still some time left for the actual election, there is a lot to be decided. Can Congress emerge and re-consolidate their votes, will AAP continue its surge and convert few more seats and most importantly can BJP pull out their biggest win ever in Gujarat.
NOTE:
This opinion poll/ survey was conducted by the School of Politics. The methodology used is telephonic survey and the sample size for the same is one lakh. The sample size was determined on the basis of socio-economic factors and demographics in each constituency. The survey was carried out during the period of 25 September to 5 October. The same is also expected to have a margin of error of  ± 2%