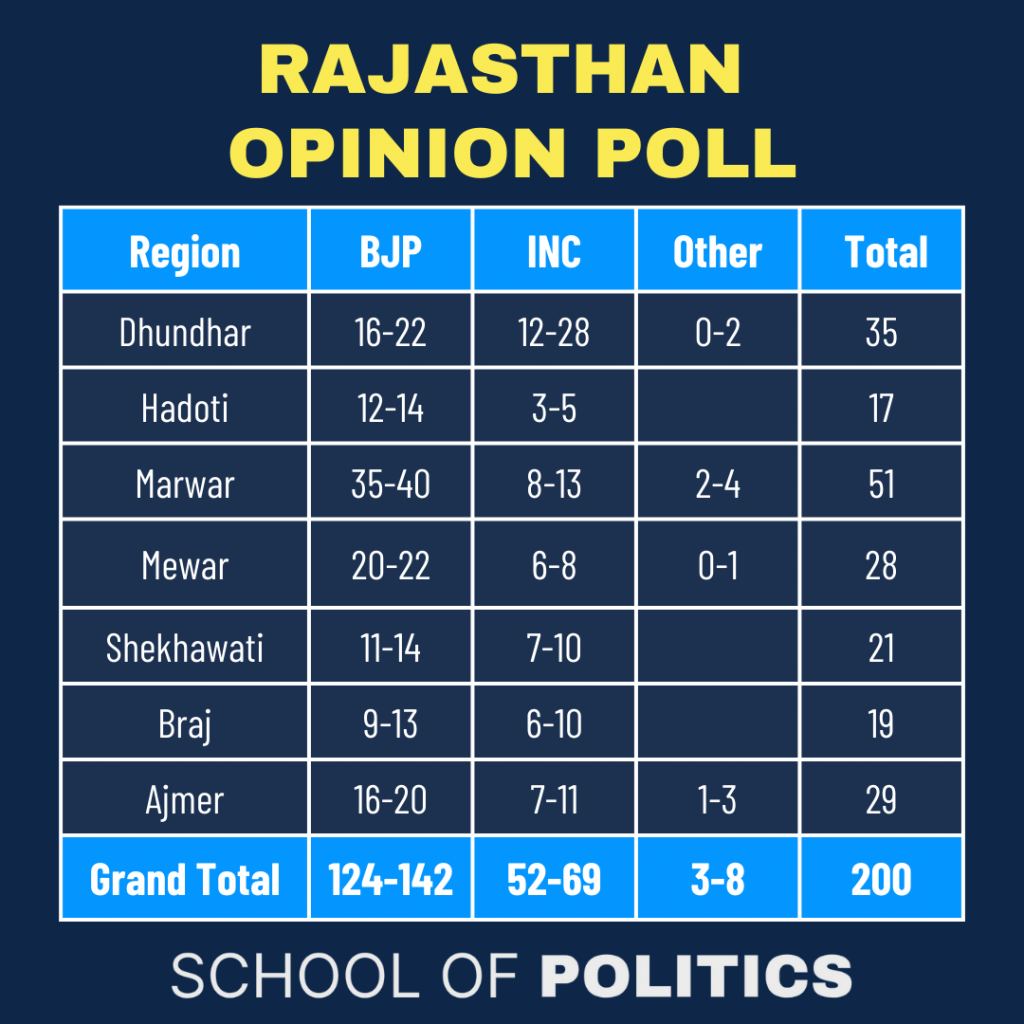 Expected Vote Share

BJP – 45.07% (+6.3%)
Congress – 40.39% (+1.09%)
BJP all set to touch 45% vote mark in assembly election, the feat only achieved by BJP in 2013 election
BJP and Congress both seems to be increasing their vote percentage
BJP seems to be gaining vote on the expense of "Others" rather Congress
BJP set to sweep Marwar, Mewar and Hadoti region
Neck to Neck contest in Dhundhar and Sekhawati region
Congress not leading in any of the region
BJP also dominating SC-ST reserved seats, set to win 38 of 59 reserved seats
"Others" vote shrinking, down from 20% of last time to around 15% this time
Marwar Region
It is the largest area of Rajasthan lying on the easternmost side bordering Pakistan. It is also the region from where current Chief Minister Ashok Gehlot belongs. It contains 51 assembly seats, last time Congress won 23 whereas BJP won 22 seats in this region. BJP is all set to sweep the region this time winning 35-40 seats. BJP is set to clean sweep Pali and Sirohi district. Congress is suffering the worst setback in Barmer district, where its tally is expected to go down from 6 to 1.
Shekhawati Region
It is the northern part of Rajasthan bordering Haryana. Congress swept this region last time winning 15 out of 21 seats. It looks like a tight race this time with an advantage to BJP. According to the opinion poll, BJP is set to win 12 and Congress 9 seats this time. The biggest gain for the BJP seems to be Jhunjhunu district, where they are set to improve their tally from 2 to 6 seats.
Braj Region
Northeast part of Rajasthan, borders Uttar Pradesh and Madhya Pradesh. This was another region where Congress won hands down last time, winning 13 out of 19 seats. BJP was down and out in this region last time winning just 1 of 19 seats. BJP is set to make a comeback by winning 12 out of 19 seats in upcoming elections. BJP is making maximum inroads in Bharatpur and Dholpur districts.
Dhundhar Region
It is also known as Jaipur region. There seems to be a neck to neck fight between BJP and Congress in the upcoming election. According to the opinion poll, BJP is set to win 18 and Congress 16 seats. This region is the strong zone of Sachin Pilot. Internal conflict seems to be paving the rise of BJP in this area. Jaipur district is predicted to be tied at 9-9 between BJP and Congress. This region is one of the most tightly fought regions in this election. Number of seats with a very close deciding margin is high in this region.
Hadoti Region
It was once called the Bundi Kingdom. It is the region of stalwart BJP leader Vasundhra Raje and Om Birla. BJP seems to be sweeping this region winning 13 out of 17 seats in the region. BJP is set to perform exceedingly well in Kota and Jhalawar districts.
Ajmer Region
Located in the central of Rajasthan. BJP looks in a dominating position in this region with opinion poll predicting 20 seats out of 29. Also BJP is set to clean sweep Ajmer and Bhilwara districts. It was a tight race last time with both BJP and Congress winning 13 seats each in the region.
Mewar Region
Southern east part of Rajasthan bordering Gujarat and Madhya Pradesh. Another region set to be swept by BJP. Opinion poll predict BJP winning 22 out of 28 seats in Mewar. BJP seems to be eating into the votes and seats of BTP in this region. BJP has been traditionally strong in this region.
SC-ST Reserved Seats
There are 34 SC reserved seats and 25 ST reserved seats in Rajasthan assembly. Last time Congress won 31 out of these 59, this time BJP is set to win 39 out of these 59 reserved seats. Congress is dominating in ST seats in Dhundhar and Braj areas, expected to win 5 out of 7 seats. BJP seems to run away with ST seats in Mewar region winning 12 out of 16 seats. BJP is set to win 22 SC reserved seats out of 34.
Note – Survey was conducted in mid October
Sample Size : 75,000