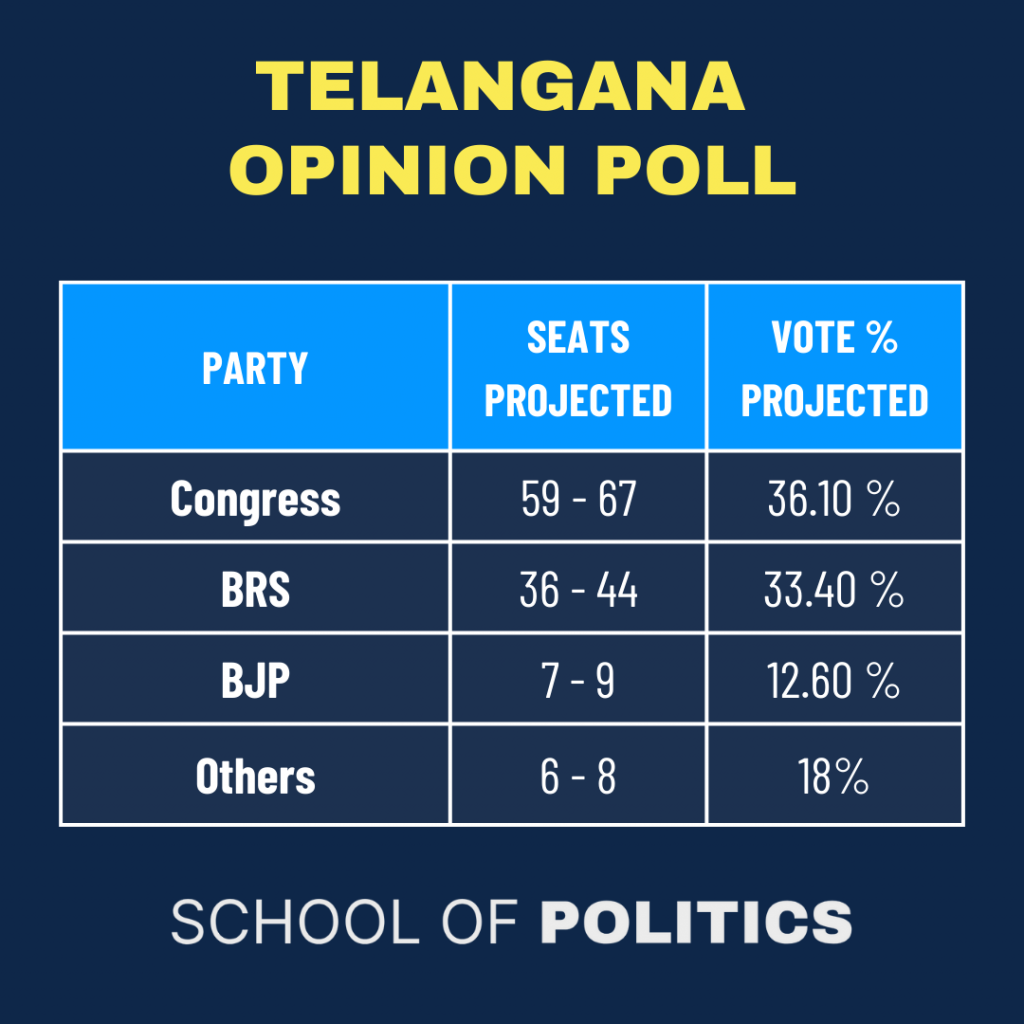 No one has won three consecutive terms in the Telugu state of Andhra Pradesh or Telangana – the historic trend set to continue. The opinion poll had a sample size of 75,000 in the state
👉🏾 KEY INSIGHTS
 
✅ Congress set to get majority and form next government in Telangana
✅ BRS losing huge vote share to Congress and BJP 
✅ BRS losing seats across the state
✅ INC decimating BRS in SC-ST reserved seats
✅ BJP increasing vote percentage from 7% to 12.6% 
✅ BJP making maximum inroads in districts along Maharashtra borders
✅ INC gaining maximum in districts across Andhra border
✅ AIMIM retaining its core area
👉🏾 CONGRESS SET TO WIN 25 OUT OF 31 SC-ST RESERVED SEATS
According to the School of Politics Opinion Poll, Congress is set to decimate BRS in reserved seats. There are a total 31 reserved seats, 19 for SC and 12 for ST. BRS had won 21 seats out of these 31 in last election, this time they are expected to win just 5, whereas Congress will be increasing their tally from 7 to 25 seats. BJP is expected to win 1 of the reserved seats in Northern Telangana.
👉🏾 BRS and AIMIM to hold on HYDERABAD
BRS and AIMIM had each won 7-7 seats out of 15 seats in the last election in Hyderabad. They are expected to win 6-6 seats this time around. BJP is expected to increase this tally from 1 to 2 in Hyderabad. Remaining 1 seat seems to be going Congress's way. This is the one region where Congress has not been able to make enough inroads.
👉🏾 CONGRESS sweeping districts with Andhra border
There are 7 districts of Telangana which borders Andhra Pradesh and consists of 26 assembly seats. Congress is set to sweep this area with 23 seats leaving just 3 seats from BRS. This is the one region where Congress is gaining maximum.
👉🏾 BJP and Congress gaining on the expense of BRS in districts bordering Maharashtra
7 districts bordering Maharashtra consist of 20 assembly seats. BRS had swept this region last election winning 17 out of these 20 seats. The growth of BJP and comeback of Congress is ensuring to restrict BRS at only 7 seats, majority of it coming from only one district – Nizamabad. BJP is set to increase its tally from 0 to 4, and Congress from 3 to 9 seats.
👉🏾 District Wise Seat Projection : https://drive.google.com/file/d/1f6vAFuRvkQKu4IHFXHBscC9gaZOOqsCP/view